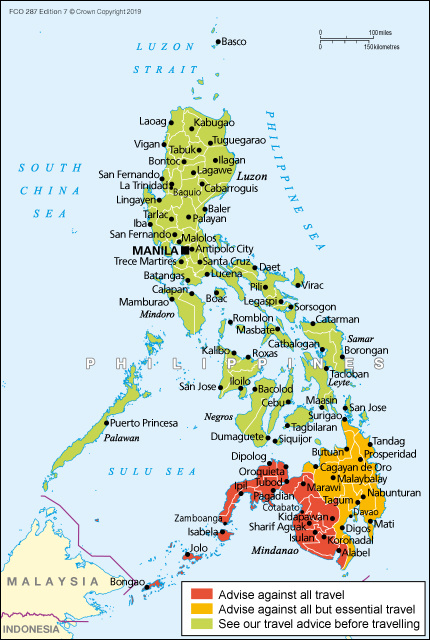 The Foreign and Commonwealth Office (FCO) advise against all travel to western and central Mindanao and the Sulu archipelago because of terrorist activity and clashes between the military and insurgent groups. The FCO advise against all but essential travel to the remainder of Mindanao (excluding Camiguin, Dinagat and Siargao Islands) due to the threat of terrorism.
There is an ongoing outbreak of coronavirus in China and elsewhere in the region.
The lake Taal volcano 60km south of Manila is experiencing a level 4 eruption. The Philippines' authorities are currently recommending evacuation of an area within 14km radius of the Taal main crater. In addition, the ash cloud is over Metro Manila and local government authorities in Manila have begun to advise staying indoors while ash is falling. Flights in and out of Manila international airport are subject to disruption. You should consult your carrier.
Terrorists are very likely to try to carry out attacks in the Philippines. Terrorist groups have the intent and capability to carry out attacks anywhere in the country, including in the capital Manila and in places visited by foreigners, such as airports, shopping malls, public transport, including the metro system, and places of worship. You should remain vigilant at all times and report anything suspicious to the local authorities.
It's likely that terrorist groups continue to plan kidnap operations against western nationals in the Philippines, both on land and at sea. Risks are particularly acute in Mindanao and the Sulu archipelago.
Martial law was lifted across Mindanao on 1 January 2020. Monitor media reporting and follow the instructions of local authorities. A 'state of national emergency on account of lawless violence' remains in place across the rest of the country.
The Philippines is in an active earthquake zone and has numerous volcanoes. The country is also affected by around 20 typhoons each year.
You can enter the Philippines without a visa for an initial period of 30 days. You can also get a tourist visa before you travel, which will allow an initial 59 day stay.
There's a high incidence of street crime and robbery throughout the Philippines. You should take sensible precautions.
Prison sentences in the Philippines are severe. The judicial system can result in long-term detention until a court hearing takes place. Don't become involved with drugs of any kind. Penalties for importing and using illegal drugs are particularly severe.